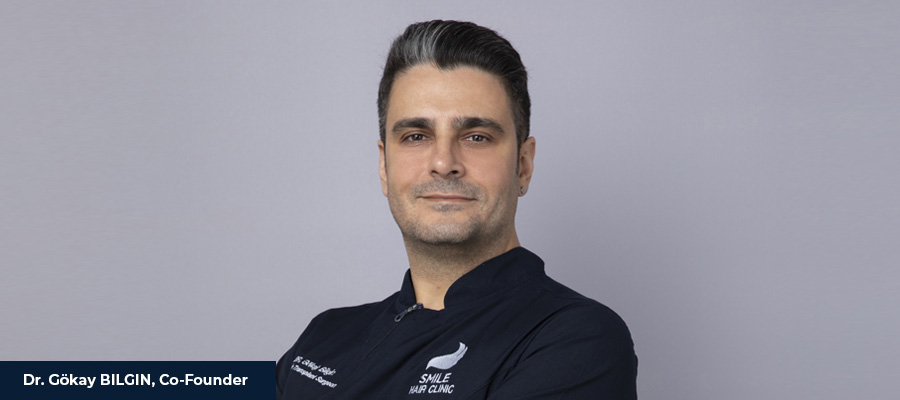 Hair Transplant Surgeon, MD. Medical Aesthetic Physician
Dr. Gökay Bilgin holds a Medical Degree (M.D) in the Faculty of Medicine from Istanbul University-Cerrahpasa. He is the co-founder of Smile Hair Clinic and a Associate Member of the ISHRS
Dr. Gökay Bilgin started his early career in Medical Park Health Group which is one of the well-respected healthcare groups in the region. He explored developments in aesthetic procedures; he gained his Medical Aesthetics and Hair Transplantation Training certificate. Joined Medicana Healthcare Group as Hair Transplant Surgeon, he was assigned as Deputy Chief Physician in a short period of time. Dr. Bilgin continued his occupation until he co-founded Smile Hair Clinic. Since then, he has completed over 4000 hair transplant procedures.
His never-ending enthusiasm for development led him to participate in numerous training in medical aesthetics and hair transplantation. Now Dr. Bilgin's reputation for hair transplantation is now well-known all over the world and he welcomes patients from all over the world.
He believes that a 360-degree treatment should be carried out for the patients during the Hair Transplantation process. Patients should be treated medically and surgically to obtain excellent and natural results. that intensive and tight transplantation with correct planning will satisfy the patient. He prefers to use Micromotor Graft extraction and Sapphire FUE Hair Transplantation incisions in his operations.
Dr. G. Bilgin is passionate about the training and professional development of the medical staff. This obsession led him to develop True™ Philosophy with his colleague Dr. M Erdogan.
Dr. Bilgin is known for his cutting-edge sense of humor among his team, you can see how much he enjoys when he's performing his medical operations. Furthermore, the bond he develops with his patients is priceless.
His priority is the achievement of the operation and completing the total transformation.
He's into fantastic movies; he spends hours of his free time exploring new fantasy movies.
He is proficient in the English language.
He is married and a father of one.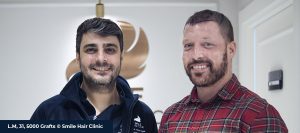 Take a look at his recent interview to get into his lifestyle.
What is the essential value of your personality?
I value learning culture both in my professional life and personal life. At work, it's essential for me to advance, develop and never stop. So that I'm spending most of my time to better train our staff at Smile. For me training is a never-ending journey, we need to advance perfectionism in everything we do. At home, exploring new things with my son and having him learn new experiences, and new angles is priceless for me. There's no other thing that enjoys me more rather than seeing him exploring and learning.
What is your work style at the clinic?
I believe you become successful and satisfied if you enjoy what you're doing. I enjoy doing this job, not only the operation itself but observing the whole transformation process, how a man becomes a True Gentleman. And I love the moments when my patients are telling how their daily life evolved to something else. That's the essential joy, witnessing a real transformation in people's lives.
What sign are you?
Aquarius.
What is your favorite perfume? And why?
Louis Vuitton- Au Hasard. Because it's the relatively new one. I like to explore new fragrances over years and stay up to date. And its wooden character feels me I'm connected to the earth.
What's the bedside book you love most? And why?
Lord of the Rings Series. Because I love to be lost in its fantastic universe.
Where were the most inspiring cities you visited?
Berlin, Paris, and Amsterdam. I'm a true fan of West European culture.