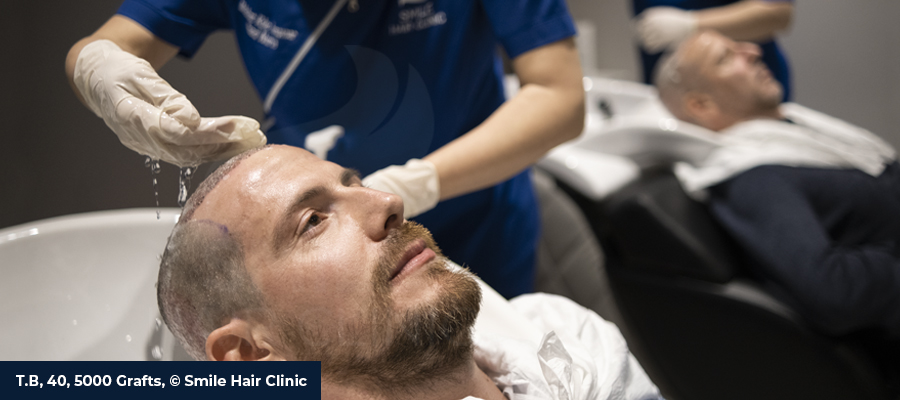 Hair Wash After the Procedure
Hair washing is one of the essential parts of a hair transplant. Therefore, there are some necessary steps that you need to follow to complete your healing stage. Here is the guideline to answer your considerations regarding the hair wash!
Wait for Two Days to Wash Your Hair
When you wash the newly transplanted area of your scalp immediately after the surgery, it may damage your hair follicles. It is recommended to wash your hair 2 days after your surgery or at least 36-48 hours after. We will do your first wash at the Smile Hair Clinic.
You can learn how to wash your hair from the video on our Youtube channel . If the patient has more bleeding/discharge than usual, we can perform the first wash the next day after the surgery.
It would be best to wash your head once a day for the first month after the hair transplant. It should be the way we taught you in the clinic/watched on our Youtube channel for the first two weeks. Two weeks after the surgery, you can wash your hair the way you used to do before. After a month, you can wash your hair once in two or three days.
Apply Lotion/Foam
You can use lotion/foam on both donor and recipient areas. Applying lotion/foam promotes your skin cells to renew, hydrate, and soften your scabs. While using lotion/foam, please be gentle and tap gently. Before rinsing it off, wait for at least 20-40 minutes.
You can apply Panthenol spray, which protects your skin; soothes and cools the skin. You should use Panthenol spray for the first 10-14 days. If you run out of it, you can use Bepanthol lotion.
Stop using lotion/foam after all the scabs are off.
Apply antibiotic cream supplied to you only for your donor area for the first 5-7 days after the surgery. Do not apply it over your recipient zone! After 5-7 days, your donor will be healed.
Wash Your Hair in a Proper Way
While shampooing your recipient area, you must be careful when touching it. After pouring shampoo over the recipient zone and making it foamy, do the gentle tapping in a vertical direction with your fingertips. Please do not rub and avoid circular movements of the recipient zone.
To prevent any infection, wash your donor area by rubbing to clean blood and any tissue remnants.
Hair Washing with Gentle Taps
Apply Advised Shampoos
Before applying shampoo different from the one, we supplied, please consult your doctor. Your doctor will guide you to pick up a suitable shampoo for your hair. Applying advised shampoo will help you remove the scabs and improve the healing.
Rinsing
Water should not be cold and should not be hot. It should be warm water with low pressure. Avoid using a shower header to wash your head for the first 14 days after the surgery. Instead, you can use a bowl or switch the shower header to get liquid water with low pressure.
Drying
The recipient and donor areas should be dried differently. Please dry your recipient (transplanted) site with a paper towel. Gently apply it over the newly transplanted grafts, so it absorbs the water. Do not rub the recipient area.
You can dry your donor area with a regular towel. Hairdryers are not recommended unless you are not using your hairdryer in cool mode. If it is possible, let your hair air dry.